foogs hud
General information
Submitted 2010-12-11 by
foogs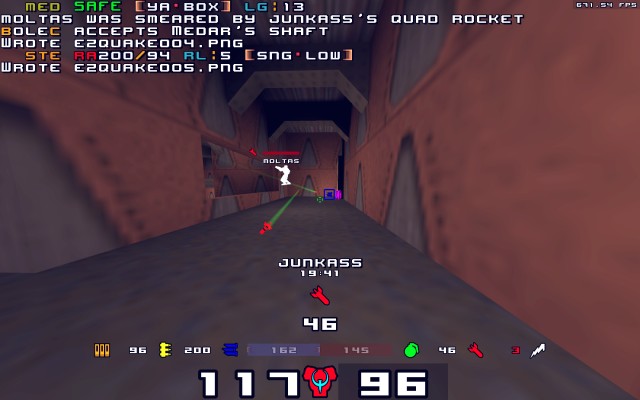 Description
//////////////////////////////////////////////
//
// Foogs HUD Instructions and Information
// irc.quakenet.org | #telefrag.me
// Current release: Dec 8, 2010
// First release: Dec 4, 2010
//
/////////////////////////////////////////////
//////////
//Instructions
//////////
1. Extract foogs_hud.zip to your Quake folder.
2. Type exec foogs_hud.cfg
Alternatively:
1. Open foogs_wad.pk3
2. Extract "textures" folder to your "C:Quakeqw" folder
3. Extract "foogs_hud.cfg" to your "C:Quakeqw" folder
4. Type exec foogs_hud.cfg
//////////
//Information
//////////
- /qw/foogs_hud.pk3 //CONTAINS THE FOLLOWING:
- /textures/wad/*
The wad numbers were originally just defs found here: http://gfx.quakeworld.nu/details/83/def/. I just edited the number so they are just flat white and flat red.
The ammo/gun/powerups/armor icons of the hud are all created by Primevil: http://www.primevil.fr/quake/hud/icons_simple/. Although I will say I had to use some of those files to create sb_rocket / cells / nails / shells because he didn't include those at the time of this writing. net.png came from def's setup as far as i can tell.
Charset is graybugs available on this site under charsets section
Enter a comment
Feel free to share your thoughts about this item (BBcode enabled).