r_tracker Simple
General information
Submitted 2009-11-14 by
_KaszpiR_
(updated 2009-11-14)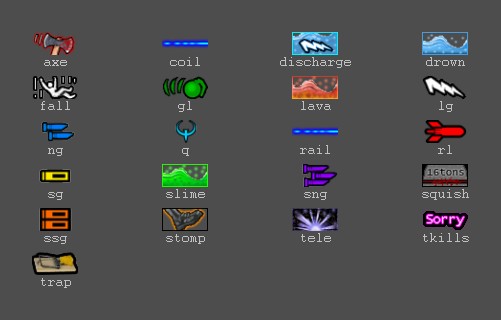 Description
Title: r_tracker simple items
Type: HUD
Size: 48x24px PNG
Author: Michal Sochon
Nickname: _KaszpiR_
Contact: kaszpir@gmail.com or _KaszpiR_ @ quakenet
Date:2009.11.14, 23:19
Version: 1.2
License: Creative Commons
Format: Mixed, png, Adobe Photoshop CS4 .psd files.
Changes:
Axe - totally redone in Photoshop, due to the license limitations.
Updated fragfile.dat
Added railgun/coil icon.
Updated readme.
Installation:
Before overwriting make backup.
Unpack the qw/ directory keeping directory structure, notice that you may have to overwrite fragfile.dat to make it work!
In ezquake go to Menu -> Options -> View -> Advanced ON -> Tracker Messages -> Use Images ON
or you can get the same by setting cl_useimagesinfraglog 1 (cl_useim<tab>)
Notes:
Created on request from AAS.
Images based on Simple Items icons from ezQuake release.
Waves, stomp, trap - based on the complete hand made images based on some internet images, google and feel lucky ;).
Tele - screenshot from game :)
Thanks:
AAS for asking ;)
ruskie for suggestions about sg/ssg, and the discharge.
Kapitan Kloze and time! for ng suggestions.
There are 2 comments on this item.
Enter a comment
Feel free to share your thoughts about this item (BBcode enabled).