Shadow Cursor and Menu Chars
Other

/ Shadow Cursor and Menu Chars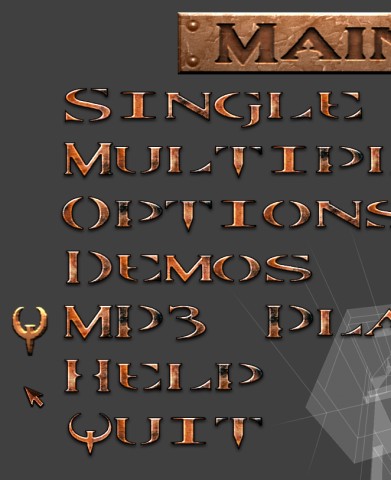 Description
Title: Shadow Menu Cursor and Menu Chars
Type: Other
Size: 1600x900, other resolutions not tested, so experience may vary
Author: Michal Sochon
Nickname: _KaszpiR_
Contact: kaszpir@gmail.com or _KaszpiR_ @ quakenet
Date: 2009.10.08, 22:15
Version: 1.0
License: Creative Commons
Format: Mixed, png, windows bitmap, Adobe Photoshop CS4 .psd files.
Notes:
Well, original nQuake menu is nice, but for me it lacks the shadows.
Additionally I've added black stroke around the chars, so that it is a bit better visible.
Install - copy the 'quake' folder contents to your Quake install dir, doh.
Had to slightly rescale Q, G, H letters to they would not drop shadows on other letters.
I provide source .psd I used, maybe someone will want to alter it.
There is 1 comment on this item.
Enter a comment
Feel free to share your thoughts about this item (BBcode enabled).