Weapon icons Q3 style
General information
Submitted 2008-06-17 by
hell
, original author: unknown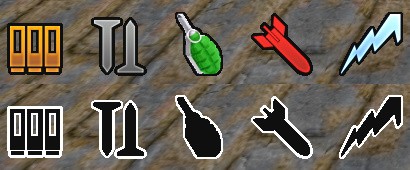 Description
The goal was to gather most visible and easy to identify by peripheral vision icons.
RL, LG, SSG come from Q3.
GL I have made myself from russian F1 grenade.
And I forgot where SNG come from. No boomstick and nailgun here.
There are 3 comments on this item.
Enter a comment
Feel free to share your thoughts about this item (BBcode enabled).